Products of Nature International, Inc.

Many In Stock

Hair Care
Regular price
Sale price
$2.95 USD
Unit price
per
Sale
Sold out
View full details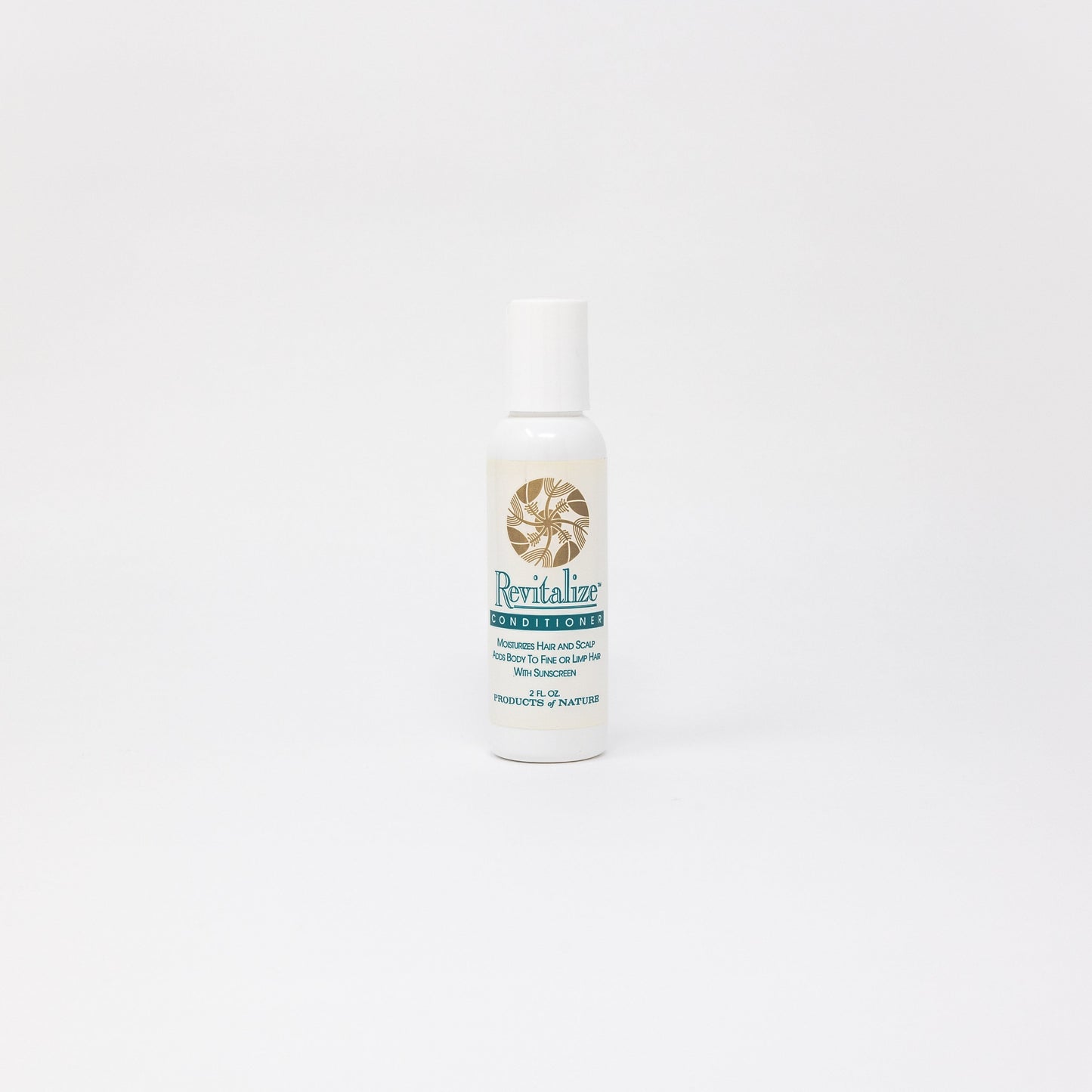 Product Description
Revitalize Conditioner is the natural companion for Revitalize Shampoo. It contains only all-natural ingredients, is pH neutral and gluten free.
Revitalize Conditioner won't leave hair oily or limp and weighted down and can be used as a leave in moisturizer. It contains spearmint oil for a refreshing natural fragrance enjoyed by both men and women. Revitalize Conditioner nourishes hair and scalp with essential vitamins, minerals and moisturizers that add luster and manageability without dulling film.
REVITALIZE CONDITIONER
Can be used by all types of hair – normal, oily, or dry
Can be used safely by the whole family – toddlers to seniors
Contains no alcohol or propylene glycol
Has natural spearmint fragrance enjoyed by both men and women
Adds body to fine or limp hair
Eliminates static electricity
Moisturizes hair and scalp
Contains sunscreen
Is cruelty free, no animal testing
For further information, please call us at 800.639.2449 or email us at info@pronature.com
Customer Reviews
Shipping & Discounts
Shipping:

United States / Puerto Rico / APO / FPO - $9.00
International - including Canada - Actual Global Priority Charges will be added (U.S. funds only)
CT Residents - Add 6.35% sales tax to order, INCLUDING SHIPPING (No tax on Natural Woman or Relevamine GS)

Discounts:

$5 off product orders of $50 or more (No discount on special offers.)
$10 off product orders of $75 or more (No discount on special offers.)
Our hair care products are the perfect solution for hair loss, dry hair, itchy scalp, and much more. Our hair care products are always all-natural, suitable for all hair types, and formulated without harsh chemicals.
Read More

We started our company in 1996 and have helped our customers improve their quality of life ever since. We pride ourselves on the quality of our hair care products and their effectiveness in meeting the needs of our customers. We cater to a global customer base, and our

hair care 

products are made with meticulous care and all-natural ingredients. Now you can experience the exciting results our products provide without worrying about harmful side effects or ingredients.

The

hair care 

products we choose for ourselves can end up having a great impact on our lives. Hence, it's important to be mindful and choose only the best. Products of Nature are high in quality and 100% natural without any parabens or sulfates or artificial coloring and they can help make you look and feel good. It's time to care for yourself the right way.

Our

hair care 

products don't contain any artificial colors or fragrances for a better experience. Say hello to balanced hormones, reduced joint and muscle pain, perfect skin, and amazing hair in no time! We are sure that you won't regret using our products and reaping the many benefits nature has to offer you.

Please Note: Discounts applied by Products of Nature when processing your order: $5 off $50 product orders (before shipping)* $10 off $75 product orders (before shipping)* * Does not apply to special offers.

Our Shipping Policy: Shopping with us is a pleasant experience. However, if you're not satisfied with any product you purchase from Products of Nature International, Inc., simply return the unused portion within 90 days. We'll happily refund the purchase price – not including the shipping charges. Feel free to contact us with your questions or concerns.