Products of Nature International, Inc.

Many In Stock

Women's Health
Regular price
Sale price
$95.85 USD
Unit price
per
Sale
Sold out
View full details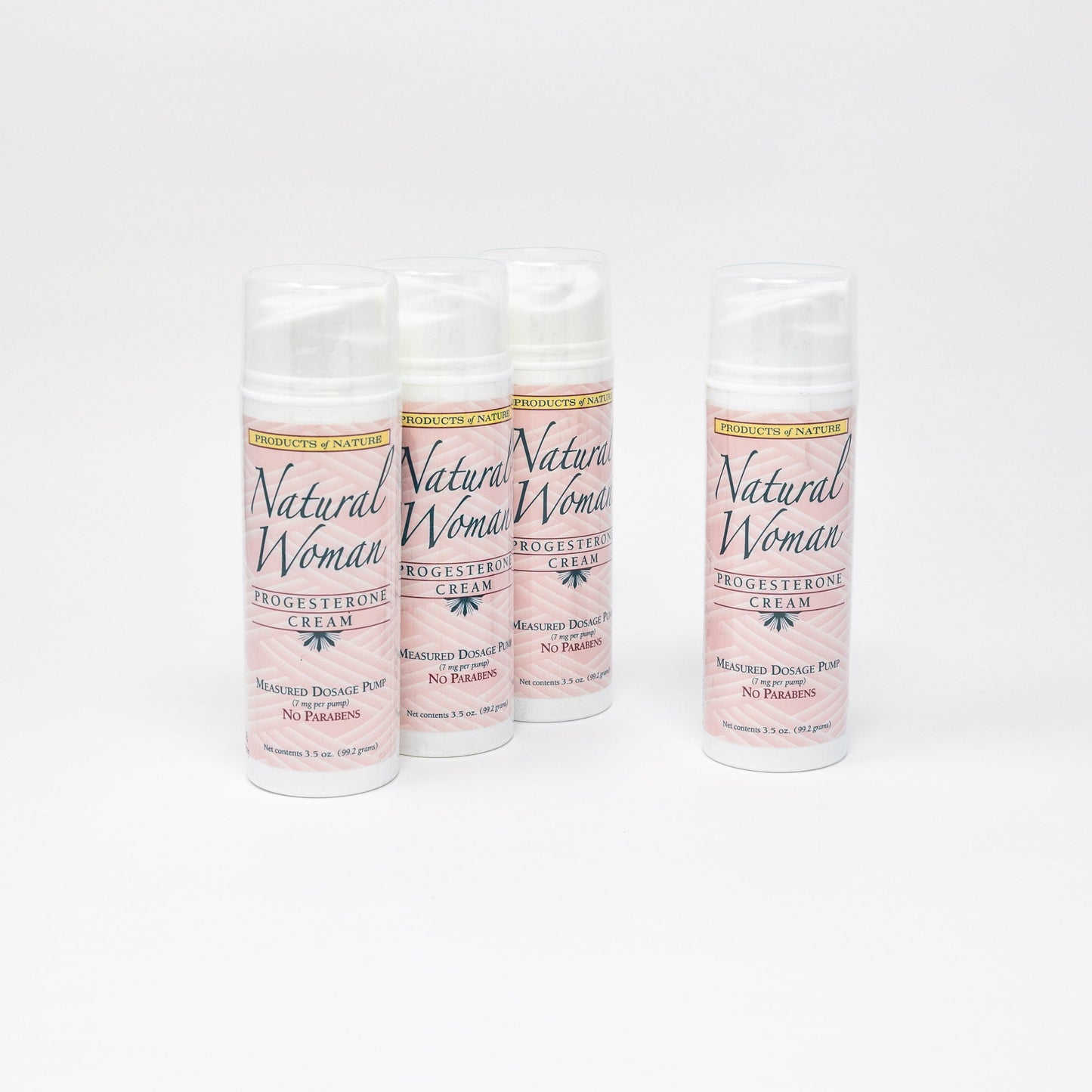 Product Description
Since 1996 Products of Nature International, Inc. has helped thousands of women positively manage their change of lift symptoms with the use of Natural Woman Progesterone Cream.
Natural Woman Progesterone Cream is a technologically advanced cream developed from all-natural ingredients in a light, greaseless, moisturizing, aloe vera-based formula. It is hypoallergenic and free of artificial colors and fragrances. Natural progesterone is bioidentical to the hormone produced by the human body.  To maintain proper hormone balance and prevent the symptoms of estrogen dominance, according to John R. Lee, M.D., it is very important that natural progesterone be used with any form of estrogen.
Apply one pump application (7 mg. progesterone) in the morning and two pump  applications (14 mg. progesterone) in the evening of Natural Woman Progesterone Cream, rotating between inner arms, inner thighs, abdomen and chest.
Natural Woman Progesterone Cream is certified kosher, won't clog pores and is paraben-free. It contains no animal or dairy products.
NATURAL WOMAN PROGESTERONE CREAM
Contains 1,440 mg. of progesterone per 3 1/2 oz. pump (container) (about 2%) as recommended by Dr. Lee and other noted medical practitioners
Is a recommended alternative for traditional synthetic hormone replacement therapy
Is applied topically so the liver won't reduce its effectiveness.
Has complete usage guidelines with each pump.
Can reduce night sweats, bone loss, fibrocystic breasts, and low libido, according to Dr. Lee
Has no known side effects.
Is cruelty free, no animal testing
For further information on specific ingredients, please call us at 800.639.2449 or email us at info@pronature.com.
Customer Reviews
Shipping & Discounts
Shipping:

United States / Puerto Rico / APO / FPO - $9.00
International - including Canada - Actual Global Priority Charges will be added (U.S. funds only)
CT Residents - Add 6.35% sales tax to order, INCLUDING SHIPPING (No tax on Natural Woman or Relevamine GS)

Discounts:

$5 off product orders of $50 or more (No discount on special offers.)
$10 off product orders of $75 or more (No discount on special offers.)