Products of Nature International, Inc.

Many In Stock

Pain Relief
Regular price
Sale price
$2.50 USD
Unit price
per
Sale
Sold out
View full details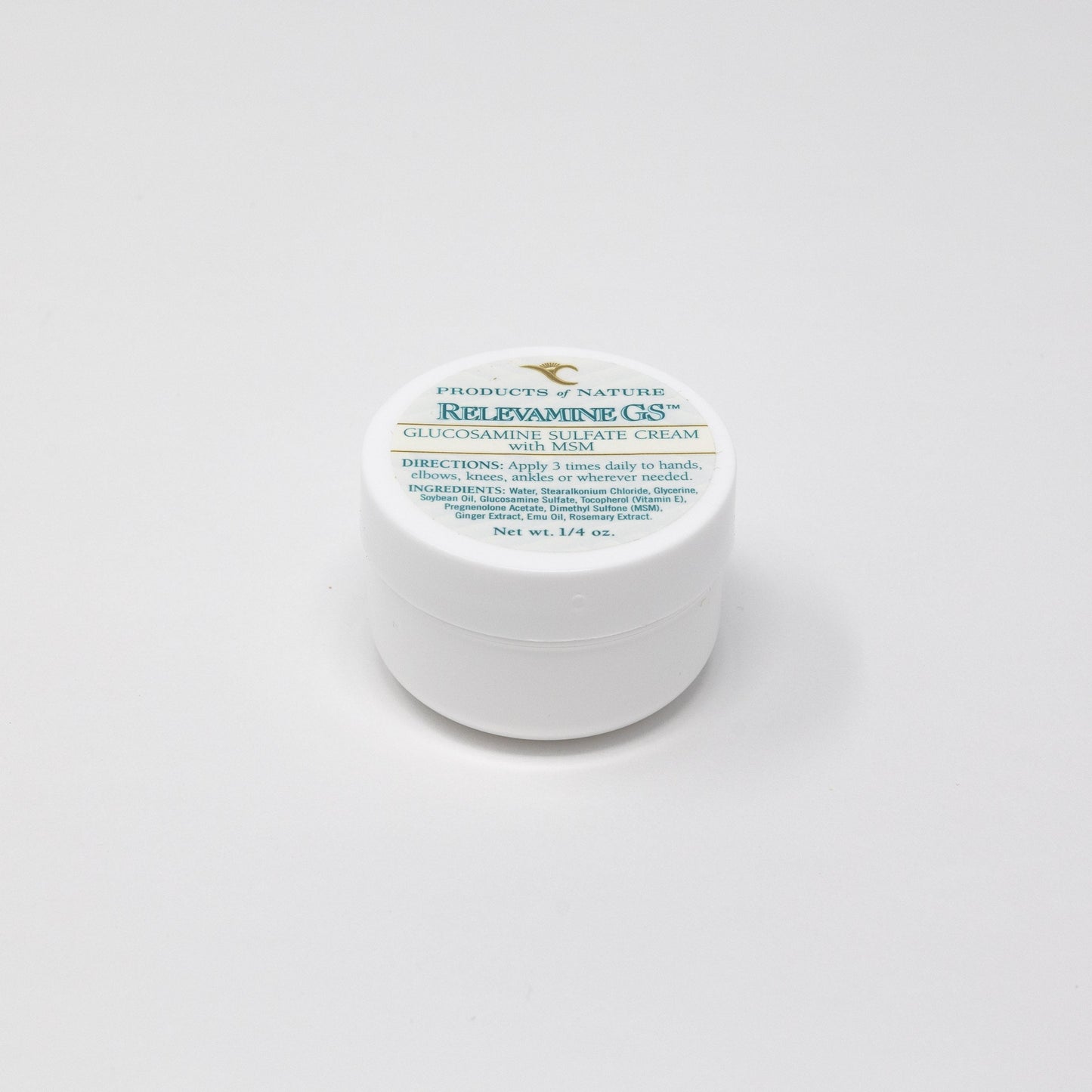 Product Description
Relevamine GS is a revolutionary odor-free new cream that contains the all-natural, yet powerful, pain relief of pregnenolone, ginger extract, emu oil and MSM with the cartilage and joint building benefits of glucosamine sulfate.
Relevamine GS has been discovered by thousands of people seeking new comfort from muscle and joint pain. When applied three times daily to the hands, wrists, elbow, knees, ankles or where needed, the increased levels of glucosamine sulfate in the body aid in pain avoidance and joint protection.
Unlike aspirin and other anti-inflammatory drugs that mask the pain of arthritis, the natural ingredients in Relevamine GS provide safe, immediate felief of pain with no side effects. This remarkable formulation goes to work where the problem starts and offers long term benefits.
Thousands of people have discovered new comfort with Relevamine GS. Recommended use is 3 times daily applied to the hands, wrists, elbows, knees, ankles or wherever needed.
RELEVAMINE GS GLUCOSAMINE SULFATE CREAM WITH MSM
Has glucosamine sulfate which reduces pain more effectively than ibuprofen.
Has pregnenolone which benefits sufferers of both osteoarthritis and rheumatoid arthritis.
Has ginger which inhibits inflammation and brings immediate relief.
Has emu oil the greatest skin emollient in the world with deep skin penetration.
Has MSM which clinical studies found has produced anti-inflammatory benefits in 2 to 21 days.
Is cruelty free, no animal testing
For further information, please call us at 800.639.2449 or email us at info@pronature.com
Customer Reviews
Shipping & Discounts
Shipping:

United States / Puerto Rico / APO / FPO - $9.00
International - including Canada - Actual Global Priority Charges will be added (U.S. funds only)
CT Residents - Add 6.35% sales tax to order, INCLUDING SHIPPING (No tax on Natural Woman or Relevamine GS)

Discounts:

$5 off product orders of $50 or more (No discount on special offers.)
$10 off product orders of $75 or more (No discount on special offers.)